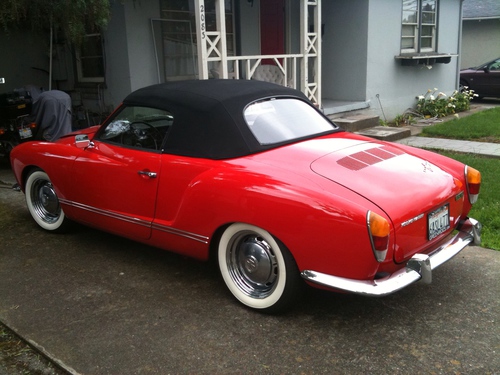 Donor vehicle
1971 Karmann Ghia convertible
Drive train

Netgain Impulse 9 electric motor (brushed DC).
Electric motor bolted directly to VW 4 speed transmission.
Kelly KDH140800 controller rated for 800 amps.

Battery system

144 volts nominal, 100 amp-hours, for 14 kilowatts. (specifically 45x Thundersky LFP100 LiFePO4 Lithium-Iron-Phosphate 100 amp-hours cells)
Lightning Motorcycles BMS
Battery box and other integration work by Lightning Motorcycles

Battery charging

Manzanita Micro PFC40 charger .. 40 amps, for a 8 kilowatt top charge rate
Adapters for a variety of power outlets, including J1772 for public charging stations. Charger can handle 120 and 240 volts.
Full recharge is about 2 1/2 hours at full charge rate, or longer if the charge rate has to be slower.

Driving

I keep the car in 2nd gear for city streets, 4th gear for highways, and 1st gear for steep hills.
The car can easily hit 70 miles/hr and 80 miles/hr is achievable if patient.
Driving range is about 50 miles

Trip length

Even though the car has a short driving range, about 50 miles, the fast charging time makes it possible to make longish trips in a day.

For example a drive from Mountain View to Monterey is achievable by making a full recharge at a charging station in Gilroy, a full charge in Monterey (while you're seeing the sights), and then a full charge again in Gilroy on the way home.