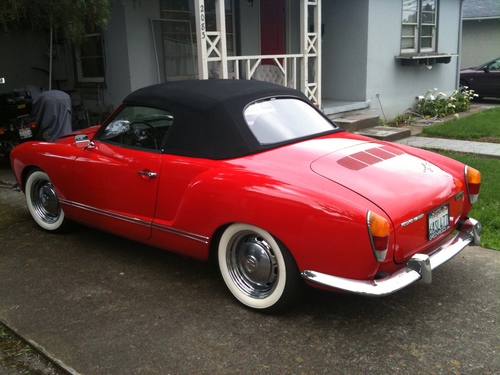 NOTE: This car has been sold in April 2015. I had listed it for sale on several websites in late 2014. I've learned that in September 2017 someone listed this car for sale on `evfinder.com` reusing words from this website. I do not know if that for-sale listing is legitimate or not. I did not list the car on `evfinder.com` after I sold it in 2015. I am not fully aware of what happened with this car after I sold it. I'd had contact with the buyer a few times until 2016. - David Herron
It's a "looker" that routinely generates interest in parking lots, driving down the street, or even when it's parked in front of the house. People are blown away by how it looks, and the quality of the EV conversion under the hood.
It won "Best Classic EV Conversion" three years running at the Silicon Valley EAA Chapter's yearly EV Rally. I drove this car in that chapters world record event, September 2014, for the largest number of EV's ever in a parade.
Donor vehicle
1971 Karmann Ghia convertible
Drive train

Netgain Impulse 9 electric motor (brushed DC).
Electric motor bolted directly to VW 4 speed transmission.
Kelly KDH140800 controller rated for 800 amps.
Hydraulic after-market clutch pedal system professionally installed.

Battery system

144 volts nominal, 100 amp-hours, for 14 kilowatts. (specifically 45x Thundersky LFP100 LiFePO4 Lithium-Iron-Phosphate 100 amp-hours cells)
Lightning Motorcycles BMS
Battery box and other integration work by Lightning Motorcycles

Battery charging

Manzanita Micro PFC40 charger .. 40 amps, for a 8-9 kilowatt top charge rate
Adapters for a variety of power outlets, including J1772 for public charging stations. Charger can handle 120 and 240 volts.
Full recharge is about 2-2 1/2 hours at full charge rate, or longer if the charge rate has to be slower.

Driving

I keep the car in 2nd gear for city streets, 4th gear for highways, and 1st gear for steep hills.
The car can easily hit 70 miles/hr and 80 miles/hr is achievable if patient.
Driving range is about 50 miles

Unfortunately the above is no longer true, as of early 2015. The controller appears to have a problem producing the same power it used to give. I tried debugging the system, doing everything but replacing the controller, and only got minor improvements. The battery pack is as good as it ever was, the motor doesn't look like it has any problems, I did some work to ensure the POT Box was positioned correctly, etc.

The behavior is that occasionally the system power poops out while driving. I've also noticed the controller runs hotter than it used to, hence the suspicion that the controller has developed a fault. The car works best when running in 3rd gear.

Trip length

Even though the car has a short driving range, about 50 miles, the fast charging time makes it possible to make longish trips in a day.

For example a drive from Mountain View to Monterey is achievable by making a full recharge at a charging station in Gilroy, a full charge in Monterey (while you're seeing the sights), and then a full charge again in Gilroy on the way home.

I've done that trip a couple times (to go to Laguna Seca Raceway), have driven it to San Francisco several times, and even to the Sonoma Speedway.